August 28, 2014 By Staff Sgt. Whitney Houston

KANDAHAR, Afghanistan (Aug. 28, 2014) -- As Forward Operating Bases downsize in Afghanistan and coalition forces reduce in number throughout Regional Command-South, units are falling back to Kandahar Airfield, bringing with them vehicles, personnel and equipment. Amongst the equipment brought back is one crucial piece used to assist with base defense and other missions.

M777A2 howitzers owned by 2nd Battalion, 77th Field Artillery Regiment, 4th Infantry Brigade Combat Team, 4th Infantry Division, were brought to Kandahar Airfield and registered, or zeroed the howitzers through shooting live rounds into an uninhabited area known as the Red Desert in Kandahar Province, Aug. 22.

The shoot also provided training for fire support personnel with 1st Battalion, 12th Infantry Regiment, 4th Infantry Brigade Combat Team, 4th Infantry Division, and showed a presence of force to the area.

"[Regional Command]-South is downsizing. The howitzers that the artillery owns were just moved to Kandahar Airfield from Passab, and we wanted to do a shoot. At first they (the 2-77 Field Artillery) were just going to register the guns by shooting them, but now we're getting some training value out of it," said 1st Lt. Elyse Ping Medvigy, a native of Sebastopol, California, who serves as a fire support officer with the 1-12 Infantry. "It's also a show of force, so to speak, for this whole area south of [Kandahar Airfield]."

Ping Medvigy explained that the live fire required continuous communication between the 2-77 Field Artillery, and the fire support team, or FIST, from Delta Company, 1-12 Infantry, on the ground to call for the artillery rounds and ensure that no local civilians or property crossed into the impact zone. While the FIST ensured the area was clear at the observation post and impact zone, the airspace that would be used for the artillery round's trajectory was cleared up to 30,000 feet by the Kandahar Airfield Joint Defense Operations Center, ensuring the rounds be shot down range safely.

That evening ten high explosive rounds were shot down range onto a clear hillside next to the Red Desert, which were later followed by eight illumination rounds after the sun went down.

The event was significant to Kandahar Airfield because all of the artillery guns until then had been forward deployed at numerous other bases, extending their reach throughout RC-South.

"There hasn't been indirect firing capabilities on Kandahar Airfield for some years now, and so providing this ability to our force gives commanders a little bit more latitude with how they engage and disrupt the enemy," said Capt. Kevin Conners, a native of Apple Valley, California, and commanding officer of Alpha Battery, 2-77 Field Artillery.

"As assets have drawn down, we're bringing another one up, which basically proves to the enemy that we can shoot from [Kandahar Airfield]," Conners said.
---



---
Official Describes Battle That Killed 8
October 06, 2009, Colorado Springs Gazette
COLORADO SPRINGS, Colo. -- A company of Soldiers from Fort Carson's 4th Brigade Combat Team faced as many as 200 insurgents during a daylong attack on a pair of outposts in the remote mountains of eastern Afghanistan that left eight GIs dead, a spokesman from the unit said Monday.
The insurgents attacked at dawn Saturday after telling villagers in a nearby settlement to flee, Maj. T.G. Taylor said by telephone from the brigade's headquarters in Jalalabad. The fighters poured out of a mosque as mortar rounds and rocket-propelled grenades slammed American position at the outposts in Nuristan province.
What followed was the deadliest fighting seen by Fort Carson Soldiers since Vietnam and the largest loss of life for the post in single battle in Iraq or Afghanistan. The Soldiers who died haven't been identified by the Pentagon, which is barred by law from releasing names until 24 hours after the last family is notified.
Taylor said the insurgents struck first at a compound housing Afghan Army troops, touching off a firefight.
"The enemy was able to reach the perimeter of the compound," Taylor said. "Our forces moved to consolidate their position."
The Americans and Afghan troops set up a string of new positions and hunkered down as they called in air support. Taylor said fighters arrived 21 minutes into the battle.
"The close air support was effective," he said.
The air power slowed the insurgents, but it was up to the brigade's Soldiers using rifles, machine guns and mortars to stop their advance and to reclaim ground.
A key part of the battle was over ownership of the outpost's helicopter land zone, a lifeline for supplies and reinforcement.
It took six hours for that land to be reclaimed by the Americans so reinforcements could be flown in.
The fighting continued for hours more as the reinforcements and the Soldiers from the company at the outpost drove the enemy, which Taylor described as local tribesmen, from the battlefield. A company typically has up to 150 Soldiers.
The battle broke the back of the enemy, which has all but disappeared from the area.
"In the last 48 hours there has been negative enemy contact," Taylor said.
Back at the 3,500-Soldier brigade's headquarters, Soldiers are filled with a mix of pride and sadness.
"I can tell you there are a lot of pensive Soldiers here," Taylor said. "They're thinking about our comrades and knowing their families are hurting back home. At the same time those Soldiers fought incredibly bravely."
The battle also showed that the training Fort Carson gave Soldiers for overwhelming enemy attacks worked.
"They showed their professionalism," Taylor said of the Soldiers in the battle. "They showed Colorado is the best place in the country to train for Afghanistan."
The brigade spent months in training before it deployed in May. The goal of training was to introduce Soldiers, many of whom were Iraq war veterans, to the distinct tactics used by Afghan fighters.
The 4th Brigade is the first major combat unit from the post to serve in Afghanistan. Before this year, all but a few Soldiers from the post did their fighting in Iraq, where Fort Carson has had 255 Soldiers killed.
This year, as deployments to Afghanistan have ramped up, so has violence there. All 23 of the Fort Carson Soldiers who have died in Afghanistan lost their lives in 2009.
In one piece of irony that remains after Saturday's battle, the ground held so fiercely by the Americans is in a place the brigade is leaving as part of a plan to bring more security to urban areas.
Taylor said the Americans planned to leave the outpost soon as U.S. forces under Task Force Warrior, a group that includes the brigade and about 2,500 troops attached to it from other posts, implements the new plan.
The bloodshed doesn't change that course.
American commanders are committed to using a tactic that was effective in Iraq to clear insurgents out of cities and refire the Afghanistan economy. The belief is that if Afghans feel secure in their daily lives and can find employment to support their families, they'll shun the insurgency there.
"Those plans have not changed," Taylor said.
Copyright 2009 Colorado Springs Gazette. All rights reserved. This material may not be published, broadcast, rewritten or redistributed. Used with permission.
---
KALAGUSH, Afghanistan, Sept. 20, 2009
Afghanistan's War - Waged on the Airwaves
U.S.-Backed Radio Stations Compete With Taliban Messages in Remote Regions Where Illiteracy Is High
(CBS) sphereit startU.S. forces in Afghanistan are waging a new kind of battle in their campaign to win hearts and minds. You might call it the "radio wars," as CBS News Correspondent Mandy Clark reports from eastern Afghanistan.

Running a radio station wouldn't normally be considered a dangerous job, but for Sahib Dad Hamdar it could cost him his life.

"The Taliban want to kill me for what I do," said Hamdar, speaking in Pashtu.

The Taliban are angry because Radio Kalagush broadcasts programs on women's issues and education in a remote eastern province of Afghanistan. That's a challenge to the Taliban's conservative ideology.

"Questions and Answers" is the most popular show. It's educational trivia contest for both boys and girls - an idea unthinkable to the Taliban, who oppose girls' education.

In a region of Afghanistan where literary is less than 20 percent, radio is the best way to reach the people.

The U.S. funds the station and also helps build the audience by handing out radios. They've given out hundreds so far.

"We were in a village this morning and that's all they want, more radios," said Maj. Billy Siekman, an operations officer for the Army's 2-77 Field Artillery Battalion.

Village women say they liked the women's show the most. They want a segment on basic first aid and child care.

But this is a battle of the airwaves. Another villager is listening to a Taliban radio station. They have sprung up around the country as well - broadcasting threats to kill those who cooperate with international forces.

"The Taliban messages are intimidating and dangerous," the villager says. "They encourage the young to join the Taliban and kill people."

U.S. forces admit that people could use their new radios to tune into the Taliban but say given the choice, Afghans wants positive information.

"A lot of the messages that we put out are specifically to help the people, for example, drinking clean water, how to take care of your child," said Army Lt. Stacey Gross. "Those are really productive messages versus hate and discontent messages that we generally hear from the Taliban."

Hamdar is hoping to expand the reach of the station. Knowledge, he says, is the best weapon against the darkness.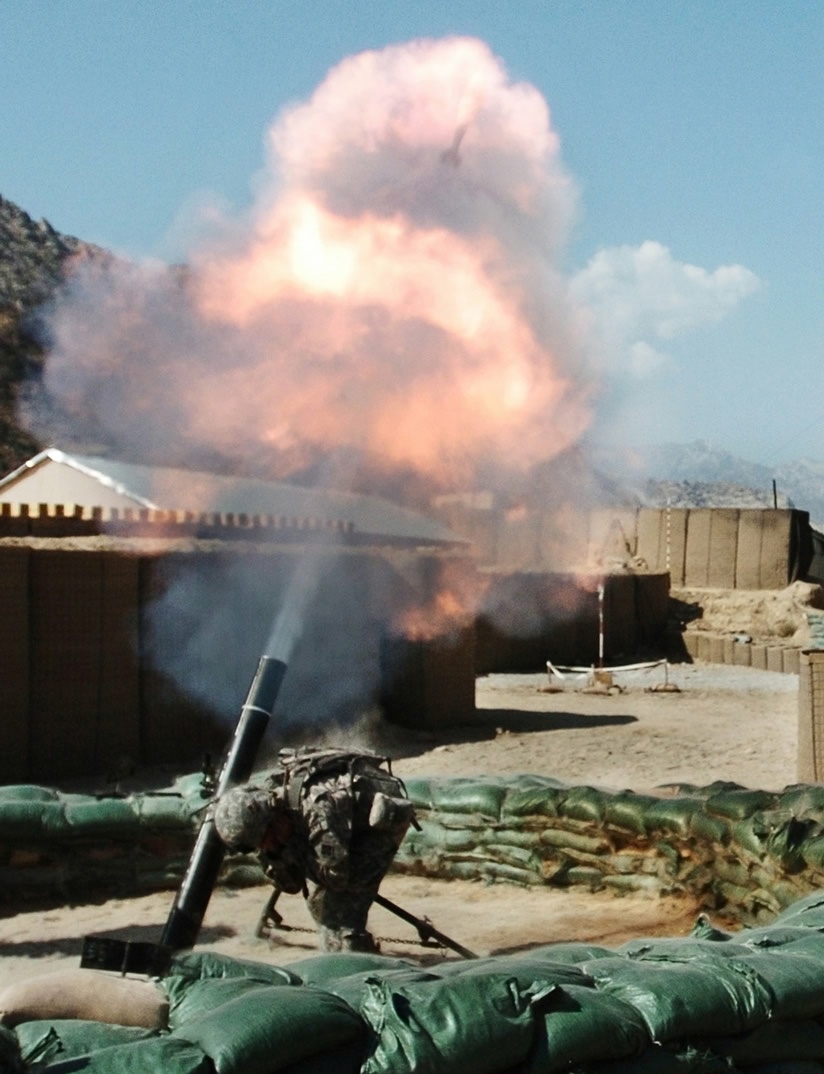 Soldiers with Company A, 2nd Battalion, 77th Field Artillery Regiment, 4th Brigade Combat Team, 4th Infantry Division fire a 120mm mortar at the hills surrounding Forward Operating Base Kalagush, Aug. 2. The Task Force Mountain Warrior Soldiers have been increasing operations in their area in order to disrupt insurgents before the country's second national elections, scheduled for the end of August. Photo by Sgt. Matthew Moeller
---
All
We continue to do great things and take the fight to the enemy with all we have. The Steel Warriors are doing great things and continue to maintain a high level of confidence and standards. Listed below there are new stories about our Battalion.
Hope all is well at home and to our 77th Brothers out there - God Bless and thanks for setting the standard on your watch and supporting us on our watch.
V/r
G
MAJ Hammar
Battalion S3, 2-77 FAR, 4 IBCT, 4ID
---
Wednesday, 15 July 2009
Gunnery sergeant helps keep enemy at bay
Written by U.S. Army Pfc. Elizabeth Raney, 4th Brigade Combat Team, 4th Infantry Division Public Affairs
NURISTAN PROVINCE, Afghanistan. Whenever forward operating base Kalagush receives an incoming attack, there must be someone there to react and fire back.
That's the job of U.S. Army Staff Sgt. Cory J. Cummings, a native of Birmingham, Ala., and the gunnery sergeant for Battery A, 2nd Battalion, 77th Field Artillery Regiment, Task Force Steel.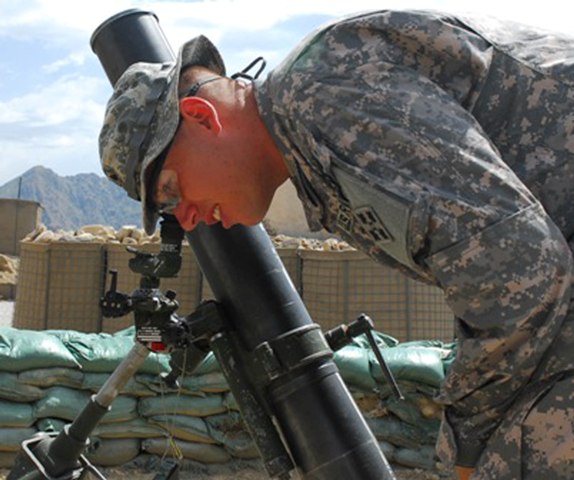 Cummings said he was influenced by 9/11 and a family history of military service to join the Army in 2002. He was influenced to choose Field Artillery by his father.
"When I was young, my dad took me to Civil War re-enactments," Cummings said. "He was the gunnery sergeant for the artillery line. I always thought it was cool. That's where my interest for artillery came in."
As the gunnery sergeant, Cummings has a long list of things to attend to. In addition to taking care of his 19 Soldiers, he must also make sure the maintenance of the equipment is always up to par, he said.
"Every morning, I go to the fire base to make sure the guns have been laid and check on maintenance and ammunition," Cummings said.
Position improvement has also been a priority lately, he added.
"We're taking something that the previous unit had established and making it better," Cummings said.
Cummings said the best part of his job is mentoring his Soldiers.
"When the FOB takes incoming and the sirens go off, the gun line, the mortar team, we all run out and get on the mortar and gun for a counter-fire mission to come down," Cummings said.
"That's the combat side of artillery," he said. "We're on the FOB, standing beside our guns when incoming comes down."
Cummings said he feels his job is mission essential.
"In order for the enemy to think that they can be touched, we need to be here," he said. "At a moment's notice, we can reach out and touch them."
"That's the benefit of artillery, that's the importance of it being here," Cummings said. "There's no threat to them if we're not here."
---
Monday, 13 July 2009
TF Steel Soldiers become part of 4th ID history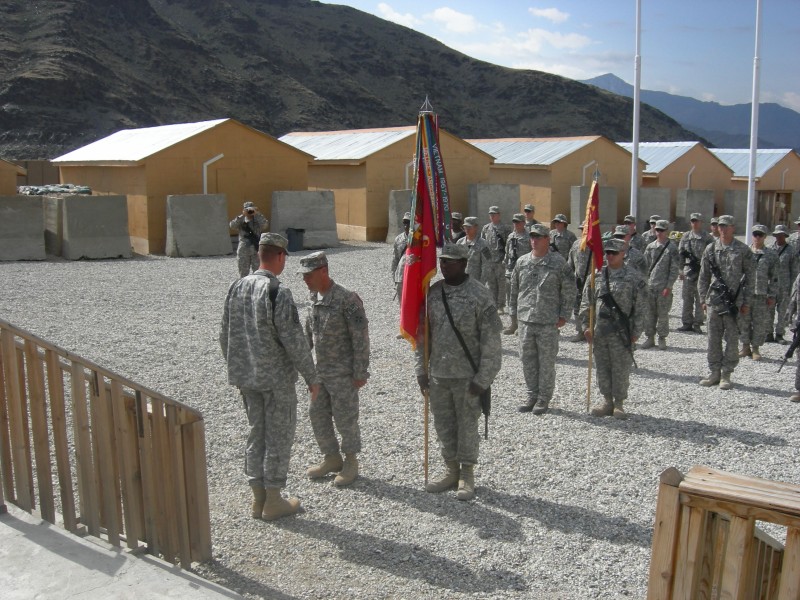 Troops form up to receive their 4th ID Combat Patch on their right shoulder July 4, 2009
Written by U.S. Army Spc. Eugene H. Cushing, 4th Brigade Combat Team, 4th Infantry Division Public Affairs
LAGHMAN PROVINCE, Afghanistan. Soldiers of the 2nd Battalion, 77th Field Artillery Regiment, of Fort Carson, Colo., received their 4th Infantry Division combat patches at a ceremony on Forward Operating Base Kalagush in Laghman province, Afghanistan, July 4.
Army Lt. Col. Michael J. Forsyth of Mayville, Ky., and Command Sgt. Maj. Michael A. Mendoza Sr., of Scottsdale, Ariz., the 2-77 FAR commander and command sergeant major respectively, presented their Soldiers with combat patches during the ceremony.
"Conducting a combat patch ceremony is important for what it symbolizes," Forsyth said. "First, it represents the proud history of 4th ID warriors who blazed a trail for us and the current warriors who will carry their legacy forward. Second, receiving a patch on your right shoulder becomes a source of pride for the Soldiers. They are now part of that storied history and the patch symbolizes that they have contributed to it. Finally, a formal ceremony recognizes their service in war, which is the ultimate reason why they volunteered to serve."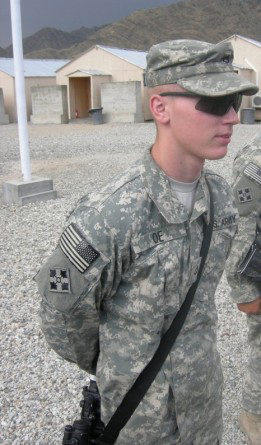 U.S. Army Pfc. Dale P. Oe, assigned to Headquarters and Headquarters Battery, 2nd Battalion, 77th Cavalry Regiment, displays his 4th Infantry Division Combat patch after receiving it in a patch ceremony on Forward Operating Base Kalagush in the Laghma Province"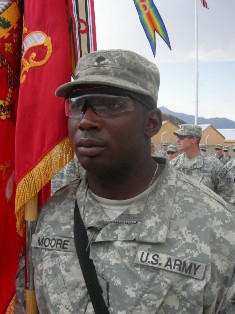 U.S. Army Spc. Leveron C. Moore, assigned to Headquarters and Headquarters Battery, 2nd Battalion, 77th Field Artillery Regiment, Task Force Mountain Warrior, holds his unit's guidon during a combat patch  ceremony on Forward Operating Base Kalagush
Since 1945, the wear of the shoulder sleeve insignia on the right arm, known as the combat patch, symbolizes wartime service and denotes a Soldier's participation
---
Sunday, July 5, 2009
We have been busy!
We shot out here in AO Steel and suspect we got some BDA. I went out with a patrol to the POO site and found aiming markers and potential firing platforms made of stone! Very primitive, but effective.
We knocked everything down the side of the mountain. Bravo battery continues to kick the enemy and has had some great effects. Golf is going strong and so is Alpha Battery. HHB has been doing a great job with the FOB improvements and securing the countryside with patrols partnered with the Afghan Security Forces.
Hope all is well on the home front and with all of our 77th FAR brothers and Sisters!
STEEL!!!
V/r
MAJ George Hammar
S3, 2nd Battalion, 77th Field Artillery Regiment
4th Brigade, 4th Infantry Division
See 2-77th Pictures on Snapfish by clicking here. 
 (You may need to create a free account with Snapfish if you are not already registered)
---
June 25, 2009
2-77th FA in Afghanistan: Task Force 'Steel' on Target
4th Brigade Combat Team, 4th Infantry Division Public Affairs
Story by Elizabeth K. Raney June 25, 2009
<![if !vml]>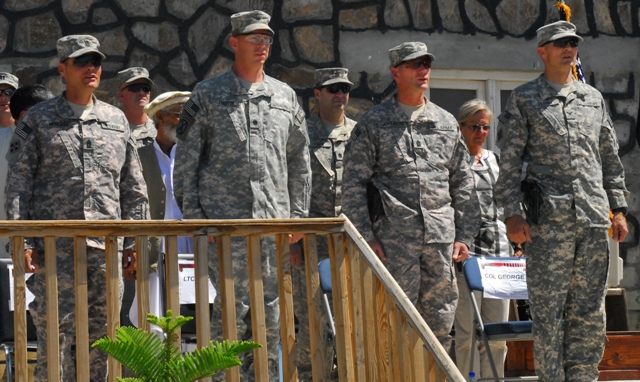 <![endif]>
LAGHMAN PROVINCE, Afghanistan. The 2nd Battalion, 77th Field Artillery Regiment, from Fort Carson, Colo., took responsibility of Laghman province, June 22, in a transfer of authority ceremony in Kalagush, Afghanistan. They relieved the 1st Battalion, 6th Field Artillery Regiment from Fort Hood, Texas.

The ceremony included an uncasing of the battalion's colors by Army Lt. Col. Michael J. Forsyth, and Army Command Sgt. Maj. Michael A. Mendoza Sr., and represented the unit's readiness and authority over the area of operations.

Army Col. John Spiszer, Task Force Duke commander, had no doubt the unit would perform and work well with the Afghans. "You're going to continue the mission here and put [TF] "Steel" on target."

"We have trained for over a year for this mission and stand ready to do whatever it takes to assist the Afghan people," Forsyth said.

"We, as the "Steel Warriors," pledge to treat all citizens with dignity and respect," Forsyth said. "We will provide support to the advancement of the province in accordance with the leadership of the area. We are committed to an Afghanistan that stands strong with a growing economy, and a secure population."
---
UPDATE EMAIL FROM 2-77th S-3 MAJ Hamman:
<![if !vml]>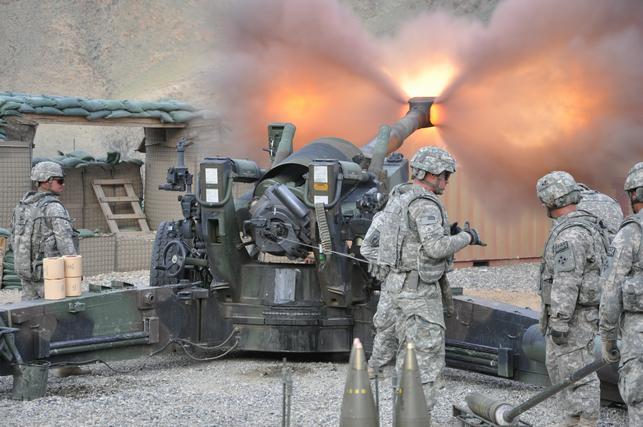 <![endif]> Doc - I wanted to drop you a line and provide an update to you and the rest of the 77th FAR Team.
 The entire BN is deployed and all are doing exceptionally well. Bravo Battery was the first to fire at the enemy with their M119s (105mm) guns. They were also the first to get BDA on the enemy.
 Alpha Battery is doing great. Their guns here in our AO (AO Steel) fired our first counter-fire mission shooting the 120mm Mortar we have to man here in addition to 2 M198s (155mm). Our Maneuver Plt has seen some action and have performed superbly.
 It's a great feeling to see how well everyone is doing and how well our Battalion functions as a team.
 Here are the addresses I promised to send (See below), in case anyone want to send things to our Steel Warriors. As soon as we start cranking our our newsletter I will make sure you get a copy of it as well.
We are spread across 13 Fire Bases and FOBs so there are a lot of different addresses.
STEEL!!!
MAJ HAMMAR
Task Force S3
2-77 FAR, 4 IBCT, 4ID
FOB KALAGUSH, Afghanistan
---
4th Infantry Reactivates Historic Unit
View short news clip on Reactivation of Unit as part of 4th Infantry Division.
By Mollie Miller Killeen Daily Herald, Friday, February 18, 2005

FORT HOOD - The 4th Infantry Division's new 4th Brigade Combat Team moved one step closer to completion Thursday as Lt. Col. Kirk Sessin assumed command of the 2nd Battalion, 77th Field Artillery Regiment during a reactivation and assumption of command ceremony at Starker Gym.
In a flash of color and battle streamers, Sessin, along with brigade commander Col. Michael Beech and Command Sgt. Maj. Keith Young, uncased the colors of the decorated regi­ment's colors that had been cased almost 15 years ago.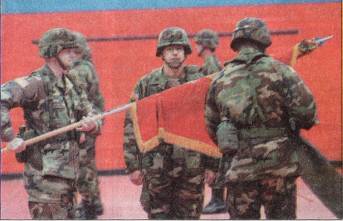 Col. Michael Beech and Lt. Col. Kirk Sessin supervise the uncasing of the colors for the 2nd Battalion, 77th Field Artillery during a reactivation ceremony at Fort Hood on Thursday. The 2nd Battalion, 77th Field Artillery was deactivated in Germany in 1991. Sessin assumed command of the unit during the ceremony.
Killeen Herald photo/STEVE TRAYNOR
"As I unfurled those colors, (I couldn't) help but reflect on those streamers that hang from the 2nd Battalion, 77th Field Artillery's colors," Beech said. "They represent the honor and sacrifice of all the soldiers who have served under those colors from World War I, World War II and Vietnam."
An active Army unit since 1916, 2nd Battalion, 77th Field Artillery Regiment was activated for action in World War I. Throughout the history of the unit, its soldiers saw action in conflicts and wars around the globe and, in doing so, earned many awards including a Presidential Unit Citation. The battalion was inactivated March 1, 1991.
"Back in 1916, this battalion was activated for one purpose only. That was to train, deploy, fight and destroy this nation's enemies," Beech said. "Again, here today, we unfurl those historic colors for one purpose only, to train, deploy, engage this nation's enemies and destroy them."
New commander Sessin explained that he understands the time for his troops to march into battle is close at hand and he has confidence his soldiers will accomplish the missions put before them.
"Commanding the 2nd Battalion, 77th Field Artillery, training and preparing it for wartime service to our country and leading the outstanding Americans within its ranks is the most important thing I will ever accomplish," Sessin said. "I feel truly honored to be standing here today."
On hand to witness the battalion's reactivation were veterans and members of the 77th Artillery Association. Doc Bosma, who served with the 77th Artillery while in Vietnam and is now the director of the association, said the reactivation is wonderful and he and his fellow veterans are looking forward to building special partnerships with soldiers of the 2-77th.
"Chances are profound that before the year is out, 2-77th will be in Iraq and the Trooper Support Program will come into play quite heavily," Bosma said. "We will crank up the Trooper Support Program for them to ensure everything they need and every encour­agement they need in combat will be coming from the (veterans) who remember what those things mean."
Following the reactivation ceremony, another veteran of the 2/77th Artillery, retired Lt. Col. Peter Zielenski, presented the soldiers of the 2-77th with a shell from the formal retreat ceremony B Battery, 2nd Battalion 77th Artillery battery fired in 1963 following the assassination of President John F Kennedy.
"I've been carrying this around with me since 1963 and when (I got the) message that they were going to have this stand-up and bring the battalion back, I thought this would be the perfect opportunity to give (this piece of history) back to the battalion," Zielenski said.
The morning activation cer­emony brought the 4th Brigade one step closer to being a fully functioning member of the 4th Infantry Division. Currently focused on training and equipping its soldiers, the 4th Brigade contin­ues to welcome new troops in nearly every day, working its way to 100 percent strength.
"The brigade is about 84 percent full," said Maj. Mark Cheadle, 4th Brigade spokesman. "We are still waiting on replacements for key jobs."
Although the percentage indicates that the brigade is almost fully staffed, Cheadle said the reason the activation of the remaining two 4th Brigade units is on hold is to allow for the arrival of "replacements for key jobs." Currently stocked with many young soldiers straight out of basic and advanced individual training, the 4th Brigade structure is still waiting on more noncommissioned officers and officers to complete the team.
Cheadle said the 4th Brigade's 8th Squadron, 10th Cavalry Regiment will activate March 11; the activation date for the brigade's 1st Battalion, 12th Infantry Regiment has yet to be determined.
..................................................................
Thanks to the Killeen Daily Herald for allowing us to use this story by Mollie Miller (mollie@kdhnews.com)