The reunion is just 4 months away, and it will be held at the Hotel Eleganté, Conference and Event Center, 3886 South Circle Dr, Colorado Springs, CO 80906, phone #719-576-5900. The rates per room are $100 per night; please use Group #1679336 when making your reservation for the special group rate. Rooms at this rate will be held until July 28th.
There is a $25 reunion/registration charge and a $40/person banquet cost. Please send your check, made out to the: 77th Field Artillery Assoc, to: Fred Taylor, 98 E McBee Ave, Apt 410, Greenville, SC 29601.
The reunion, near Fort Carson Colorado, is where the only 77th Field Artillery Regiment active duty unit, the 2nd Battalion, is located. The 2nd is now part of the 4th Infantry Division, Division Artillery (DIV ARTY). Paige Lanier, our liaison with the battalion, is working on some events for us. In addition, as discussed at the last reunion, there is much to do in and around Colorado Springs. Review the list of some of the nearby events.
Reunion Information and Registration Form here.
Your browser should download a Microsoft Word document which has itinerary and registration form. It may also prompt you to save the file - Note the location where it saves. If it does not download or open the document, send an email to The 77FA Webmaster.
The 77th Artillery Association reunion is open to all veterans and their families who were supported by the 77th or who supported us. We were all part of a great team that truly made the sum greater than the parts. As many an artillery commander used to say, the only reason for our existence is to support the infantry. Come join us as we spread the smell of cordite from the 77th at Fort Carson. If you know anyone who served in the 77th Artillery Regiment, past or present, please let them know about the reunion.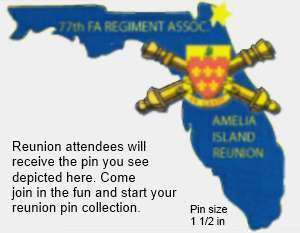 Click Pin Logo above or
HERE
to see what else is available for purchase when you attend the 77th Field Artillery Regiment Association Reunion. When registering, please include the name information for your attending spouse so that Name Tags can be prepared.
The 77th FARA President will chair the association annual meeting. Per our constitution, only the Third Vice President would be elected. One of the primary tasks to complete is the election of new officers.
If anyone is interested in running for the office of President, VP or Secretary, or would like to nominate someone for the offices, please e-mail President, 77th Field Artillery Association (FARA) at President (at) 77fara.org
Many of you know other 77th Artillery Regiment Veterans - so please contact them and be sure ask them to join. This reunion promises to be another great one. Last year's was a great one. We get a chance to renew lost friendships and make new ones. All of us that have attended past reunions have been glad we did; it seems to settle some things and make you more confortable. Prior reunion events was outstanding and enjoyed by all.

If you who have not joined the 77th Field Artillery Regiment Association, please do so before the reunion. It makes it easier on our Treasurer. One year dues is $20.00 and Lifetime membership is $100.00. We are a registered 501 c 19 Military organization. Contributions are tax deductible, but not dues. We record all contrbutions on the membership database maintained by our Secretary. However, we do not send out individual contribution information or forms at tax time.
The Secretary gets the application with check, makes the dues deposit, and records the contribution information in the member's record. After depositing funds, information is sent to the Treasurer to record on his system. At tax time, the Association will publish our corporate ID number so contributors can claim their deduction.
The Association believes "lifetime" is the better choice, as you don't have to keep up with year to year dues.
I know we'll have another great time again in 2017.

EN GARDE

President,
77th Field Artillery
Regiment Association

If you have any questions or comments, e-mail The Association President at (President@77fa.org).
---
December 10, 2015.
One of the Association members, Waymond Graham, took a number of photos at our reunion and put them on a CD and is en route to our webmaster for posting of over fifty photos on the CD. Thanks Waymond.
Also, after his presentation at the reunion, LTC Snyder left with a video disc of the 2nd Battalion's last deployment to Afghanistan. The twenty minute video which is fast moving and very professionally done, is also enroute for posting. Mainly it evolves around unit personnel as they go about their duties and daily routine. Lots of photos of unit personnel around their base camp, FOB Walton.
Belated update on a few things from this year's reunion on 16-20 September 2015 reunion - Amelia Island, Fernandina, Florida
Newly elected officers assume their duties on 01 October rather than 01 January. Our Constitution specifies newly elected officers to assume their duties on the first day of the fiscal year ( Article III, Section 1-f, Officers, Councils, and Committees, found on Page 9. Problem was, fiscal year was not defined and we had been using 01 Jan-31 Dec. Proposal readily approved, so the tour for Don Gross, as the President of 77th FARA ended 1 October 2015g.
The results of the 2015 Annual Election of Officers were:
1) Al Hatch, current 1st VP asked to step down. We reluctantly honored his request.
2) With Al Hatch stepping aside, the 2d VP, John Moran moved up to position of President.
3) Tom Chiappone, our 3d VP has moved up to 1st VP
4) Juan Garcia was elected 2d VP.
5) William Bilo (BG Ret) was elected 3d VP
April 6, 2015.
2nd Battalion, 77th Field Artillery Regiment, Monthly Situation Report for April 2 2015 here.
2nd Battalion, 77th Field Artillery Regiment, Monthly Situation Report for March 12 2015 here.
2nd Battalion, 77th Field Artillery Regiment, Monthly Situation Report for March 12 2015 here.
April 6, 2015. (February 2015) Lieutenant Colonel Neil N. Snyder, IV, and Command Sergeant Major, Erick Macher, the command team of 2nd Battalion, 77th Field Artillery Regiment, 4th IBCT, 4th Inf. Div. held a Change of Command ceremony, February 18, 2015 at Fort Carson Colorado. Johnson relinquished his command to Lt. Col. Neil Snyder symbolically with the passing of the battalion colors. See photos of ceremony on 2/77th Face Book Page here. See another photo and message from LTC Snyder to the 2/77th Steel Family here. Finally, see photos for his introduction to his troops here . All of these photos and MORE are on the Facebook page 2nd Battalion, 77th Field Artillery Regiment, the only active duty 77th Field Artillery Regiment battalion

April 6, 2015. Paige Lanier, former HHB, 2/77th Artillery member, was interviewed for the Viet Nam 50 Year Anniversary. Check out his inspiring talk about Vietnam service: http://www.krdo.com/news/veterans-reflect-on-vietnam-war-anniversary/31688172
January 25, 2015. A four (4) day "Battle of Suoi Tre" Memorial event was held March (19-25) at Fort Carson, Colorado. Keynote Speaker was General John W Vessey, who commanded the 2/77th artillery on the day of the battle. John was the 25th Division's Artillery Executive Officer when he filled in for the 2/77th artillery commander who was away. General Vessey would later move on to become the Chairman of the Joint Chief of Staff during President Reagan's first administration in 1981. Details for week here.
January 24, 2015. Please help the Find Don White Facebook page at https://www.facebook.com/searchingforDonWhite locate Don, who served at Camp Breckenridge, Kentucky in 1950. The photo on that site and below show him wearing the 77th Field Artillery Regiment Distinguished Unit ID insignia on his cap and that is Air Defense Artillery insignia on his collar.
I can not find when the 77th Field Artillery Battalion, the unit that was in Korea and Japan, was under the Air Defense Artillery but it may not be that important as between 1948 and late 50's, there was only one 77th Unit on active duty - the 77th Field Artillery Battalion.
However, our 1st Battalion, was in Air Defense in late 50s: The battalion was reconstituted 20 December 1956 in the Regular Army as Battery A, 634th Field Artillery Rocket Battalion, and activated 1 January 1957 at Fort Hood, Texas. The unit was reorganized and redesignated 25 June 1958 as Headquarters and Headquarters Battery, 1st Missile Battalion, 77th Artillery (organic elements constituted 1 June 1958 and activated 25 June 1958). The battalion inactivated 25 June 1959 in Germany.
All of the other 77th battallions had been deactivated as 77th units after WWII between 1946-1948 and/or reactivated as other units (85th Artillery). The fact that he wore the Cav patch and the 77th DUI leads me to believe he may have been with the 77th FAB in Korea or Japan.
Interesting that he does not have any medals or name tag on his uniform. I don't know if it might have been in basic or some type of school or reserves training of some kind, so that makes it hard to place the photo.
He was originally from Mt. Pleasant, Texas. The seeker of Don White is helping a friend that has been looking for him for years. If anyone recognizes him or served with him, please post your information on the Facebook page above.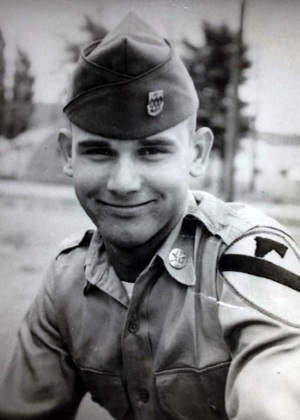 January 6, 2015. 2015 reunion again being held on Amelia Island, Fernandina, Florida. To be from Wednesday, September 16 to Sunday September 20, 2015 at the Amelia Hotel at the Beach, 1997 South Fletcher Avenue, Amelia Island Florida 32003. Added article to 2nd Battalion (Steel), 77th FA, 4th Infantry Division in Afghanistan See new photos of 2-77th at Kandahar Air Field, Afghanistan.
The rates have been confirmed for 2015. Phone Amelia Hotel at 904-206-5600 or 877-263-5428 to make your room reservations. Ask for 77th FA reunion rates and rooms. Please make your reservations before 8-13-2015. Tentative Reunion Itinerary and Registration Information here. Your browser should download a Microsoft Word document which has iteinerary and registration form. It may also prompt you to save the file - Note the location where it saves. If it does not download or open the document, send an email to The 77FA Webmaster. More details on Reunion in Red text area below.
November 11, 2014. See 2014 Reunion photos, Page 3, with new captions. More to follow for pages 1 and 2 later. Also added link to Fort Clinch State Park for those more adventurous who might with to Camp or bring their RV (up to 48 feet) to the 2015 reunion. Contact Fort Clinch State Park: (800) 326-3521
June 18, 2014. Added new button named Vietnam Memorials for those 77th Artillery personnel who were casualties of the Vietnam War. The page lists by Unit, date of casualty, and name. Also includes links to The Virtual Wall so you can look up other Army units, and also by State and City. CLICK HERE or on VIETNAM MEMORIALS button in window to the left. Also updated the Vietnam Facts page to put link to home page at bottom and fix text and format miscues.
January 23, 2014. The NEW MEMBERSHIP button software is working now - CLICK HERE or on MEMBERSHIP button in window to the left.
January 9, 2014. The NEW Guestbook software is working now - CLICK HERE or on Guestbook Button to the left.

2nd Battalion (Steel) , 77th Field Artillery Regiment Facebook Page
Their link can also be found by simply searching for "2-77 Field Artillery Regiment" on Facebook's search feature. They regularly post photos and updates on all the things their active duty Soldiers are doing. The 2nd Battalion hosted Mr Paige Lanier, a great friend of the Battalion and a Vietnam Veteran of B/2-77, in the field at Fort Carson on August 26, where he watched a number of fire missions with our Forward Observers. Photos of that visit were attached and will be posted in their unit section of photos.
The Battalion deployed to Afghanistan in early 2014.
The 9th Engineer Battalion commemorated its deactivation at a casing ceremony, May 31, 2013 in Grafenwoehr Germany, along with the other components of the 172nd Infantry Brigade [completes deactivation in October 2013], including Schweinfurt's 172nd Support Battalion and 1st Battalion, 77th Field Artillery Regiment (Falcons First). Visit their facebook page:

1st Battalion (Falcons First), 77th Field Artillery Regiment Facebook Page
June 15, 2012. From John McGuire - mcguijo@gmail.com. - I am working to create an oral history surrounding an action that involved A/1/77 Artillery and A/1/5 Infantry and occurred on LZ Peanuts on May 4/5, 1968. LZ Peanuts was in I Corps near the DMZ and a few kilometers south and west of Khe Sanh. In this action, a group of NVA overran and nearly overtook LZ Peanuts. I want to talk to anyone with knowledge of this location or action. I have no affiliation with LZ Peanuts other than having spent the last several months interviewing survivors of the battle there. I had a close friend who was there and that peaked my interest. I'm lacking the "grunt's" perspective of this battle. Photos at the following Google+ site: LZ Peanuts.
The 77th Artillery Association online ROSTERS are updated regularly.
If you discover any errors, or have updates, please use the FEEDBACK Menu item.

---
What we're all about: